In For A Penny…
Back before I even became a member at my lodge, I can remember wondering which appendant body I should join next. The esoteric Scottish Rite — full of Morals and Dogma, and discussions of symbology, and the seemingly infinite number of degrees? Or the more traditional York Rite, to continue the Masonic lessons in the way that the early speculative Freemasons have done in the past? Oh, sure, older and wiser Masons cautioned me to wait a bit until I had a chance to settle in, but what the hell did they know?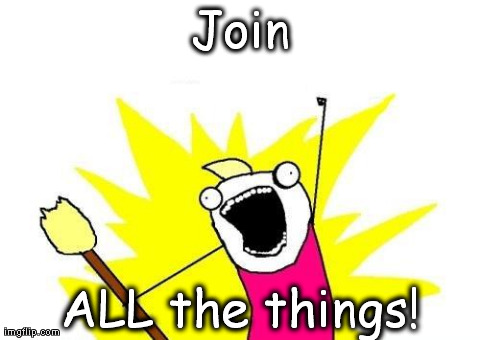 But you know how things happen. Right after I joined, I got sucked into was asked to join the officer's line, and that turned into five years just trying to do a decent job, and I figured that after my year in the East, I'd start looking at joining something else again. But no sooner was I shunted off to the old Past Master home, when I found myself with the capacity to aggravate people in an more-or-less official capacity as a District Grand Lecturer. That became three more years of my being out several nights a week, and I really had no desire to add more meeting nights to my plate.  And then I was busy with work, and barely had time to get to Friendship a few times a month, let alone do anything else. And then my daughter was in her last year of high school, and we spent quite a bit of family time together before we would send her off to be indoctrinated college.
And then in the fall, it got too cold (and dark!) to do any bicycling in the evening after work, and I found myself  — somewhat uncharacteristically — with little to do.  So , I again pondered my choices, and after some reading, and some discussion with friends who had been there before me, I asked a brother who frequently stops in at Friendship for a petition. Naturally he had one in the car (Masons, amirite guize?); I filled it out, asked a few friends to sign off for me (fortunately the Past Grand Master just happened to be there), and turned it back in that afternoon. I got lucky, because the next meeting was in two weeks, and as it happened, the Keystone Chapter No. 27  was free enough to confer a Mark Master Mason degree.
After a few back and forth emails, I showed up at the Meriden Masonic Temple on the appointed date, and even somewhat early. We had been having a particularly frigid cold snap, and I found it amusing that the thermometer in my car said 4º when I pulled into the parking lot. I chatted with a few of the guys, and was surprised that I hadn't actually met any of them before except for RW Bob, who was going to be acting as the RWM that evening.
The brothers are to be commended for putting together a degree on such short notice, especially since several people were sidelined by the weather. I had a surprise at the end of the evening when the Senior Grand Warden revealed that he was originally from Minnesota, and was a good friend — in real life, no less — of one of the few remaining Masonic bloggers.
While most of the guys were anxious to get home, a few of us did hang around afterward, talking about the degree and some of the history behind it. I'm looking forward to doing this again.
---
Here's a picture of the Masonic Temple in Meriden, CT., in which a number of lodges and chapters meet.